Currently Hall Rentals have been put on hold due to recent changes with our insurance. We hope to once again have rentals of our Hall in the near future. We apologize for any Inconvenience.
Thank you for considering Duanesburg Volunteer Ambulance Corps' Community Room to host your upcoming event. It is our goal and commitment to accommodate you and your guests and make your visit enjoyable. Scheduling is on a first come, first serve basis. Please call early to reserve your date.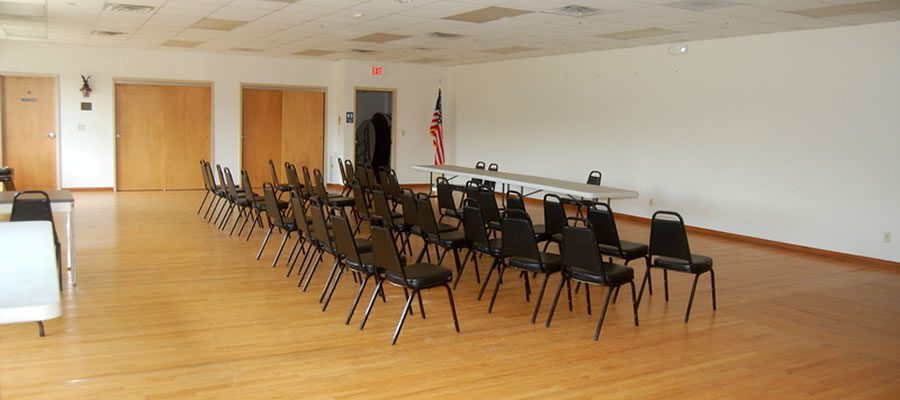 Facility:
Hardwood flooring
Hall size is approximately 1410 sq. ft.
Maximum seating capacity is 99
3 rectangle tables
12 round tables, up to 7 chairs per round table
112 Chairs
Kitchen (commercial) – 10 burner gas stove and side by side gas ovens, sink, dishwasher, stainless steel preparation table, refrigerator, freezer, coffee makers
Rental Fee:
Rental fee of the Community Room is one hundred dollars ($100.00) per day.
Full use of the kitchen, including ovens/stove, requires an additional one hundred dollars ($100.00) per day fee.
A fifty dollar ($50.00) per day refundable Reservation/Cleaning/Damage Deposit will be taken upon reservation of the Community Room.
The Cleaning/Damage Deposit will only be returned after the Community Room is swept, mopped, refrigerator and freezer emptied of all rental client food, sinks and dishes washed/dried/put away, rental key fob left in the kitchen on top of the microwave and all trash removed to the dumpster
Download a Community Room Rental Agreement Form (pdf) and contact DVAC at rentals@duanesburgambulance.org to leave a message with the following information:
Name of Rental Client
Preferred Rental Date and Times
Type of Event (birthday party, anniversary celebration, wedding reception, etc.)
Rental Client Contact Information (preferred email address, preferred phone number)
How to Rent the Community Room:
Before Renting ~ View hall photos or arrange a walk-through before you rent in order to see what the hall looks like inside. A list of equipment in the hall may help your planning.
Schedule the Community Room by emailing DVAC at rentals@duanesburgambulance.org to reserve your event. Your name will appear on the calendar, with "Reserved, Payment Pending", until the Corps receives the rental fee and deposit checks at least one month prior to your booking to guarantee your event date. DVAC will cash the deposit check only in the rare case of damage to the hall, or equipment damage or loss.
Print the Community Room Rental Agreement form (pdf), with current fees and information. Send the completed form with checks and paperwork required. Make checks payable to Duanesburg Volunteer Ambulance Corps and mail to PO Box 130, Delanson, NY 12053 Attn: Hall Rental.
Cancellations Notice of cancellation must be given to the facility Rental Manager no less than three (3) weeks prior to the event's scheduled date in order to receive a full refund of the Reservation and Cleaning/Damage Deposit.
Cancellations submitted less than three (3) weeks prior to the events scheduled date may be assessed a fifty dollar ($50.00) late cancellation fee and will be subtracted from the Reservation and Cleaning/Damage Deposit prior to refund at the discretion of DVAC
Day Before and Day of Rental
Pick up the key fob the night before or early the day of your event from the Facility Rental Manager. We recommend coordinating an appointment with the Facility Rental Manager one to two days before the event to obtain the key fob, answer any final questions, review and and answer any policy questions and inspect the Community Room, Kitchen and bathrooms.
Adjust the climate control, if needed, approximately 30-45 minutes before the start of the event. The thermostat is to the far left of the kitchen door and its use will be reviewed when the rental client retrieves the key from the Facility Rental Manager.
Cleanup
Follow the checklist for hall cleanup to put things back in place in the hall.
Leave the key fob on the coffee maker in the kitchen. Be sure to take away garbage to the dumpster outside the kitchen and remove all of your belongings when you leave.
Your deposit check will be returned to you after a visual inspection of the hall.
Forms and Lists:
Community Room Rental Agreement Form
The hall photos page can give you an idea of your rental space, but you may schedule a walk-through preview any time. Contact DVAC at rentals@duanesburgambulance.org to schedule an appointment.